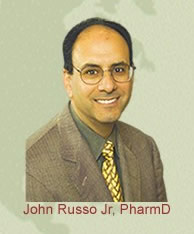 Dr. John Russo is President of The MedCom Resource. (See his CV here – PDF version). Previously he was senior vice president of medical communications at vicus.com, a complementary and alternative medicine website. Prior to that, he was chief-of-operations and director of continuing medical education at Churchill Communications North America.
Before entering the field of medical communications, he was associate professor of clinical pharmacy and adjunct associate professor of surgery at the University of Utah. Dr. Russo is a graduate of Rutgers University with a BS degree in pharmacy. He received a master of science degree in institutional pharmacy practice at St. John's University College of Pharmacy and Allied Health Professions, and a doctor of pharmacy degree from the University of Missouri-Kansas City.
Dr. Russo has written and edited more than 200 articles, symposia proceedings, monographs, and books. More recently, he has focused on development of single-sponsored educational programs on CD-ROM and Web sites for clients in the pharmaceutical and biotechnology fields.